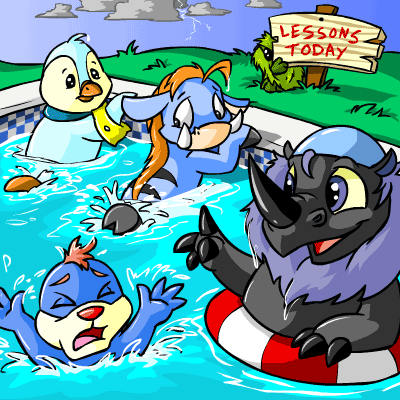 Tuskaninny: Help!
Tonu: ? With what??
Moehog: ? Uh..
Tuskaninny: Save me and I'll tell you!
*Tonu brings Tuskaninny to edge of pool*
Tuskaninny: Ok, Three reasons why I was sinking,
Tonu: SINKING! *gets big medicine aid*
Tuskaninny: I'll just tell you now, *looks mad* first of all, I wanted attention,seconed of all, I was reacting to that big storm comming, Thir-
Tonu: STORM!? EVERYONE OUUUUT!
Bruce: *looks at sky* AHHH! My gosh!
Tonu: Everyone I am NOT responsible for you so... *runs away*
a cloud: Why does everyone go away when we show up? *other clouds are cring* I mean, It's not our falt we get too much liquid in us!
*difforent cloud barfs* I didn't mean it in that way...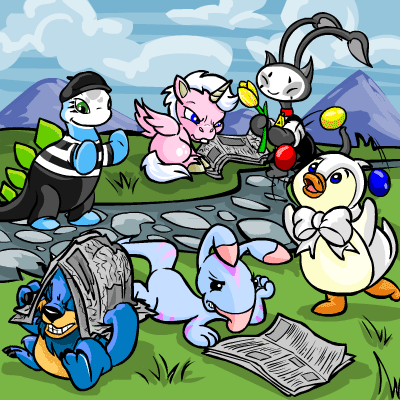 Blumaroo: UNI! I TOLD YOU NOT TO INVITE MIMES TO MY PARTY!
Uni: ... I thought I called the clowns!
Bruce: I'm a clown!
Yurble: Why did we have to invite anybody! I thought this party all about the Neopain Times!
Blumaroo: Yaa... UUUUUUNNNIII!
Uni: what?!
Blumaroo: I said, UNI!!
Uni: what!!!???
Mimes: DA DADADADA LADALADADALAAAA!!!!!!!!!!!
Blumaroo: nevermind...
Uni: WHAT!!!!????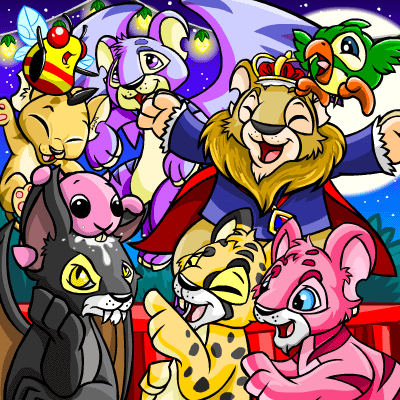 Baby kougra: Hahaaa!
Farie kougra: haha what? WHY ARE YOU HAHAING AND WHO ARE YOU DOING IT TO?!
Baby kougra: scawy kouga hwas a meepeet on head!
Halloween kougra: Hey, it's a serius problem!
spooted kougra: I think he thinks your cheese...
halloween kougra: Why?
Pink Kougra: BECAUSE YOU SMEL AND LOOK LIKE ONE! *laghs*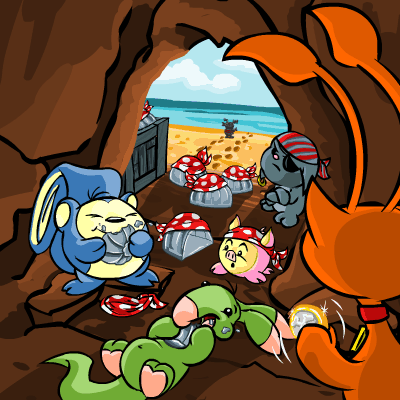 Snorkle: A bandana? On jelly? Wait, I'm
wearing a bandana, too... *looks around* uh oh.

Farrie krawk: awww, why so grey?
grey krawk: one word and a phrase, paintbrush. Becareful what you pick from the money tree.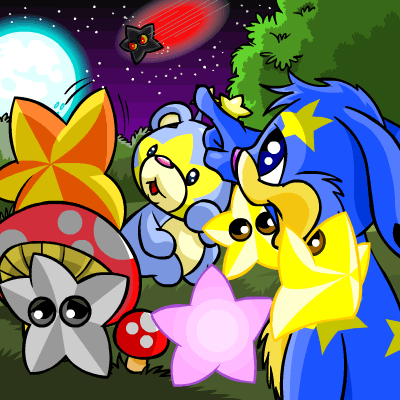 Zafara: aaaww look! there's one of your friends tring to go to the moon again! I should have brought popcorn...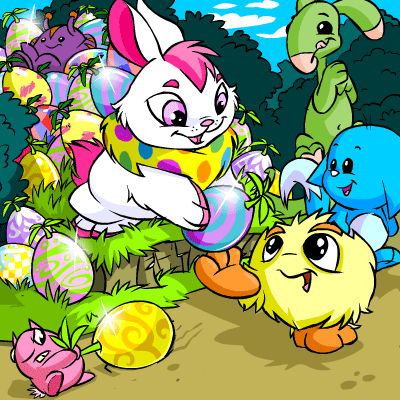 Jubjub: wow thanks! And uh, why is that petpet over there?
cybunny: Which one?
Meepit: finaly, I've been tring to get a hand on one of these rare babies since I was born!
Jubjub: ... The one in th-
Meepit [thinking]: don't say pink don't say pink!
Jubjub: on the negs over there.
cybunny: huh? *looks behind* HEY! No steeling!
Meepit: few, wait a minute... Steeling, never tried it before, muwahaha!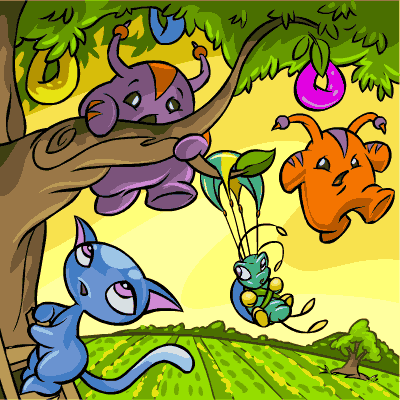 Kadotie: Hey what are all of you doing up here?
all of the other petpets: rehersing
Kadotie: for what?
other petpets: our game
Kadotie: dude! me too!
Berry: uh oh, Kadotie is starting to talk...
other berry: so?
Berry: SO WHEN EVER SHE TALKS SHE NEVER STOPS!
Kadotie: What was that sound?
Other petpets: The-
Kadotie: oh well, probably just the wind, anyway, blah blah blah blah.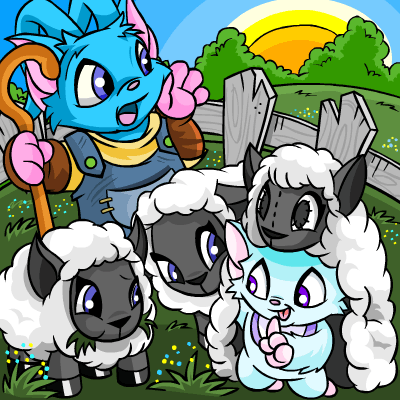 Babaa Chewing Grass [To Other Babaa]: Should we
tell her that we're all getting sheared today?
Babaa In Middle: Nah, she'll find out soon enough....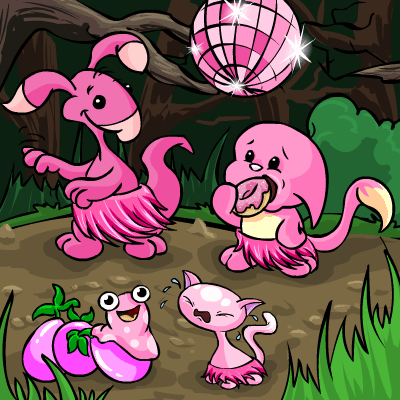 Kadotie: mama! mama!
Kacheek: stop calling me mammmmm.....
Kadotie: slorg is on m-my neeegs and someone took my dounut!
Kacheek: mmmmmm
kadotie: *looks at kacheek* mama, why? WHY?!
kacheek: what? I found it beside you I'm sure it's not yours.
Kadotie: oh well I hate dounuts! NOW GET UGLY FACE OFF MY NEGGS!
*slorg eats the neggs*
kadotie: sniff, sniff, OH WELL I HATE NEGGS TOO! I HATE EVERYTHING! I'M NEVER EVER GOING TO EAT AGAIN!!!!
Kacheek: suit your self
(5 minutes later)
Kadotie: MAMA ME IS HUNGRY GIVE ME FOOD UGLY FACE!
Blumaroo [thinking]: Poor kacheek, maybe I shouldn't have that kadotie for sale...
Kacheek: so that's why this kadotie was 3 np!!!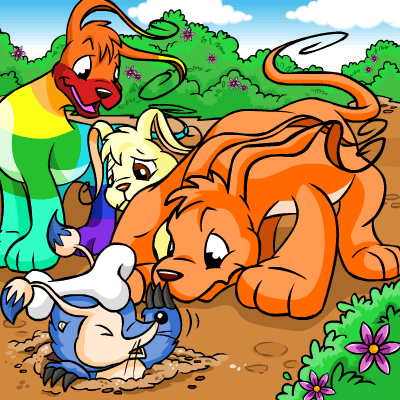 orange gelert: this discribes everything!
sybol: is there anything on my head?
orange gelert: sorry sir, We'll have to take you downtown.
symol: Why???
Rainbow gelert: He's lying! Symol, we ALL know YOU took the bone.
baby gelert: Gulp...
orange gelert: You dirty rat you!
Symol: I sware! I didn't do anything!
Baby gelert/minty: I...I...
orange gelert: minty has something to say to you to! Minty go ahead say what you were going to say.
Baby gelert/minty: Nothing,
Rainbow gelert: forgot what you were going to say?
Baby gelert: ya... Gulp....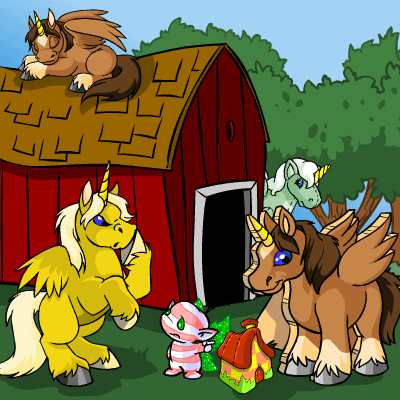 Yellow Uni: Hey, you don't look like a real Uni!
Cardboard Uni: Maybe...
Candychan: If you weren't real, though, then you wouldn't be able to talk!
Cardboard Uni: Maybe...
Yellow Uni: Are you stupid or something?
Cardboard Uni: Maybe...
*Cardboard Uni falls over and, behind it, is a record player*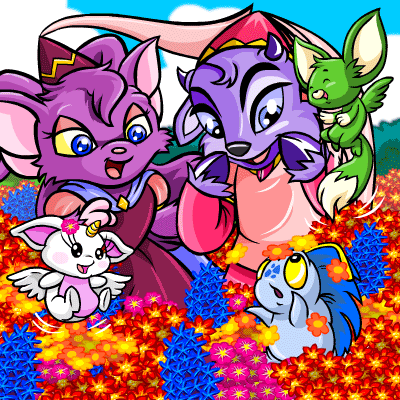 Acara: AAAWW! CUTIES! why have a never seen them befo-
Ixi: ? What were you going to say??
*acara is standing there paralized*
Ixi: this dosn't seem to righ- * becomes paralized*
petpets: haha! they got tricked! *removes flowers and there is discusting stuff under* Paralize ivi!
Faellie: wait a minute, if they are paralized why arn't w- *the petpets get paralized*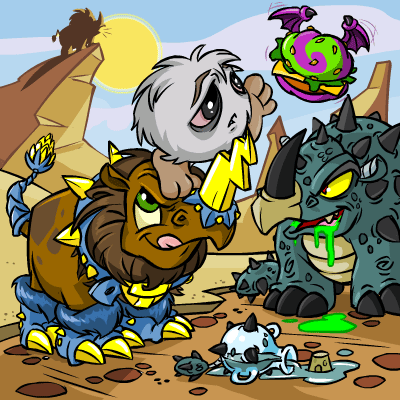 mutant tonu: on the count of three, 1...2...-
*jubjub catches cheeseburger and rides on it*
Jubjub: so long suckers! *falls off* ummm, I take that back, REALLY!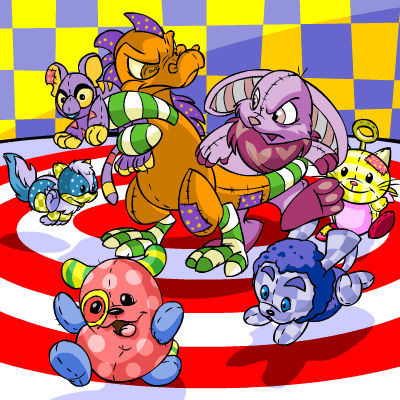 Angelpuss: this pose of mine is like, sooo wrong! blah!
cybunny: sorry angelpuss, next time I pose with my foot in your face, I'll clean it.
Angelpuss: You mean you DON'T clean! PPEEUUUU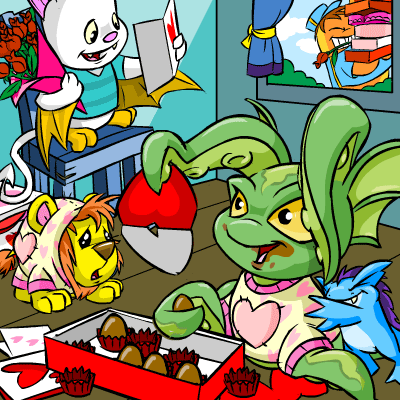 Acara: sigh, these delishius chocolates are from my boyfriend,
korbat: Dude like these are from my baby chelsea!
noil: you guys are lucky, all I got was a sweater from my grandma.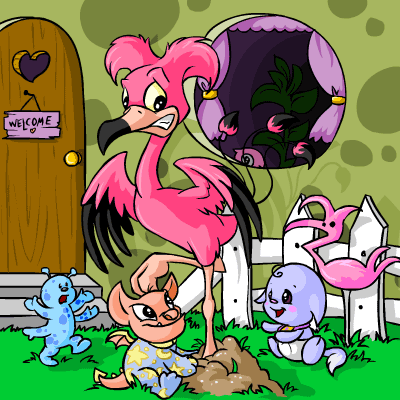 Lenny: Man, owning a daycare is abssolutly HORRIBLE!
baby kacheek: enny? can me interest you in swome fancy food?
Lenny: on the other hand....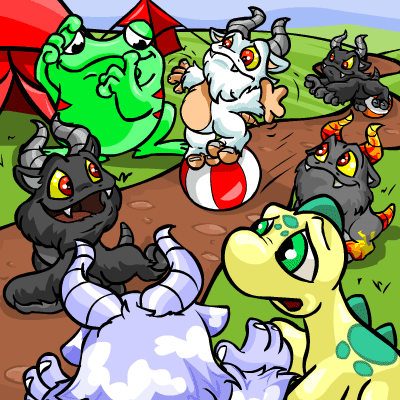 chompy: I uh, better leave, I don't want to be ' the medicine man ' again this year!
Quiggle: Oh ya! You think thats bad! When someone is hert it's MY responceiblity no matter what!
chompy: *already half gone* BYEEEEEEEE!!!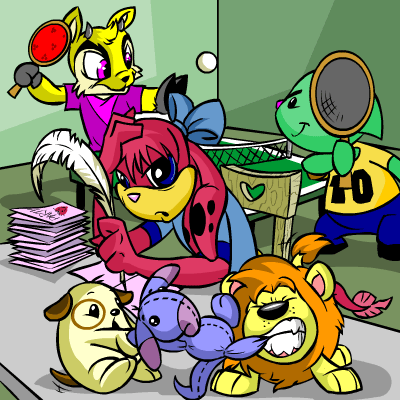 Kacheek: I'm winning!
Ixi: You sore winner you!!!
warf: I can be a bully! Just because I'm small dosn't mean I'm weak! Here! Give me this plushie and I'll show you!
Noil: Give me back my dolly you bully!
Zafara: Why did my father send me in the basment ta do ma homework dude?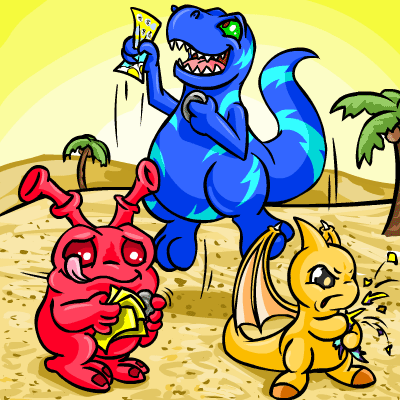 Garl: I love report card day! I got an A+ on everything!
Grundo:I got way better then last year! I did soo good Mrs. rockle put candy in mine!
Garl: those are rocks you just picked up...
Grundo: ..... SHOYRU! What did you get?
Shoyru: one word... *rips up report card*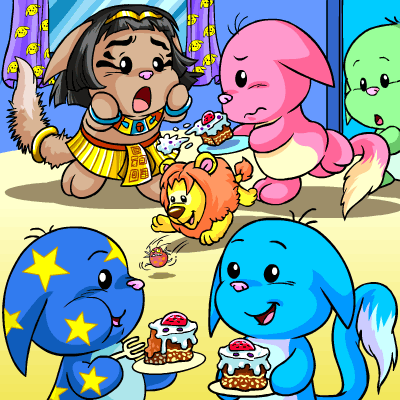 Captain Contest maker: ok guys, freeze! ok that's perfect!
pink kacheek: *smiles*
Captain Contest maker : perfect! A day of kacheek day!
(noil comes running in just when person takes picture)
Captain Contest maker: It's ok, but kacheek is falling and there is a noil in the picture, oh well.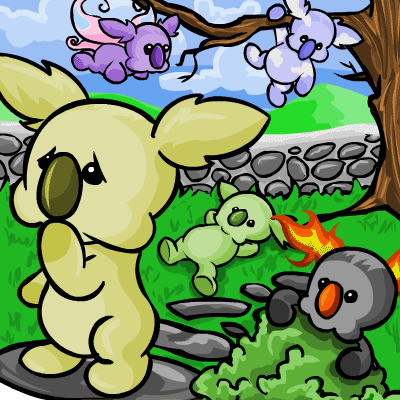 After many days searching for the lost Harrisworld,
Lino realises that he forgot to lock his front door.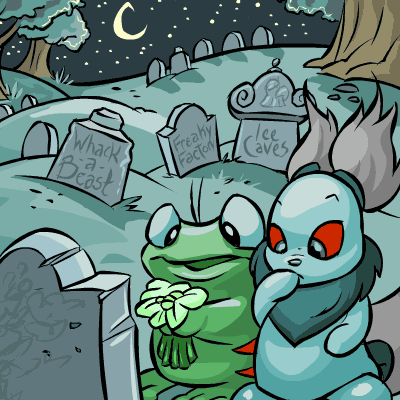 Usul: *looks at stone* ummm Quiggle!!
Quiggle: yes?
Usul: don't look at this one!!
Quiggle: Why?
Usul: umm... It will scare you...
Quiggle: oh please! Nothing scares me! I am scareproof and-
Usul: *make quiggle read stone*
Quiggle: *runs away screaming* Mamamamamamamamama!!!!!!
Stone [Usul 1903 -1913]